"Many governments now are more and more aware that at least the day of cheap and easy oil is over... [however] I'm not very optimistic about governments being aware of the difficulties we may face in the oil supply," 
Fatih Birol, (Chief Economist of the International Energy Agency)
Liquid Fuels
It is difficult to have a conversation about our future without understanding the embedded nature of liquid fuels. Crude oil and its derivatives (petroleum, diesel fuels, jet fuels, kerosene etc) benefits cut across every aspect of business, community, government and society in general. Oil is the invisible hand which supports, facilitates and drives global growth and economies. It is embedded into almost every aspect of our lives and our current economic system. It has shaped modern society, from the way we get around, to what we eat and to where we live. Crude oil is the lifeblood of the global economy.
From our understanding and analysis of the current paradigm in the fields of commerce, conservation and economy, energy is clearly the most crucial of all inputs. It is therefore important to understand the role liquid fuel (crude oil), plays in modern economies. Only by understanding the potential risks can we better manage and move toward a resilient future.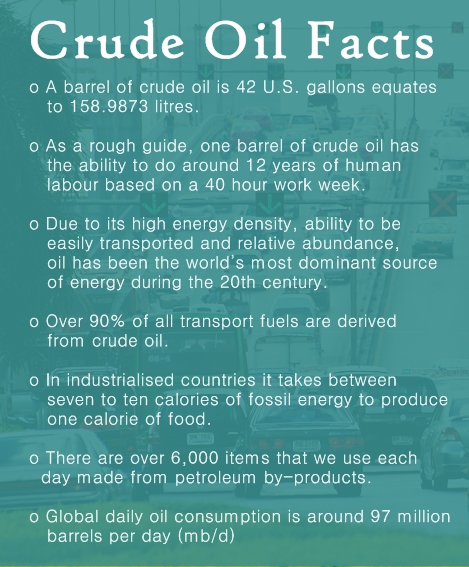 Below are some relevant articles and presentations to help understand the complexity and interconnected nature of liquid fuels. 
Drilling Deeper  A Reality Check on US Government Forecasts for a Lasting Tight Oil and Shale Boom, by David Hughes